Paris Charles de Gaulle Airport is the largest international airport in France and amongst the busiest in the world handling almost 66 million passengers in 2016.
As part of the ongoing maintenance programme for the airport two new surface water drainage pipelines are required beneath the airport. Due to the complexities of construction and the high degree of security required at the airport as with all airports in the modern age, it was decided to utilise microtunnelling as the preferred option for the installation of the pipelines.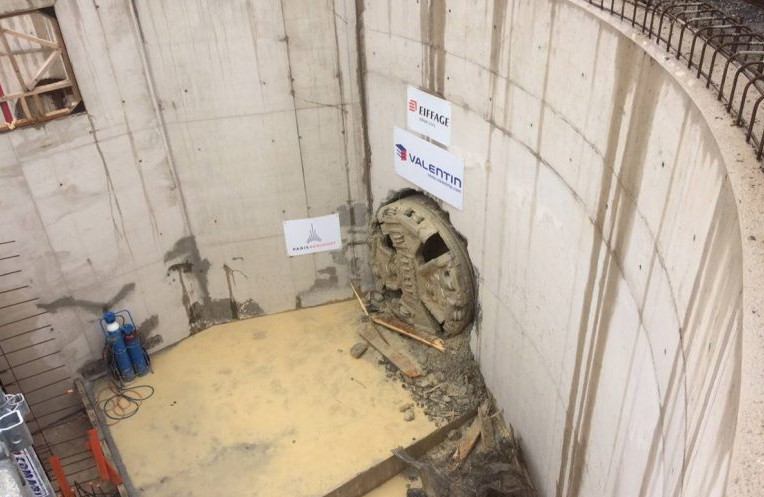 Joint venture contractor Valentin/Eiffage was appointed to complete the microtunnelling works and elected to use a Herrenknecht AVN microtunnelling machine for the job.
For the Charles de Gaulle Airport project the microtunneller was to install two drives of 2,500 mm in diameter as straight bores over lengths of 630 m and 580 m respectively.
To ensure accuracy of the drives the contractor decided to utilise VMT guidance systems for the drives selecting the SLS-Microtunnelling LT system as the best option. However having had no previous experience of the guidance system VMT provided an engineer to take care of the system installation and carry out all required surveys throughout the first of the two drives which took place between February and July 2017. The second drive was recently started in September 2017.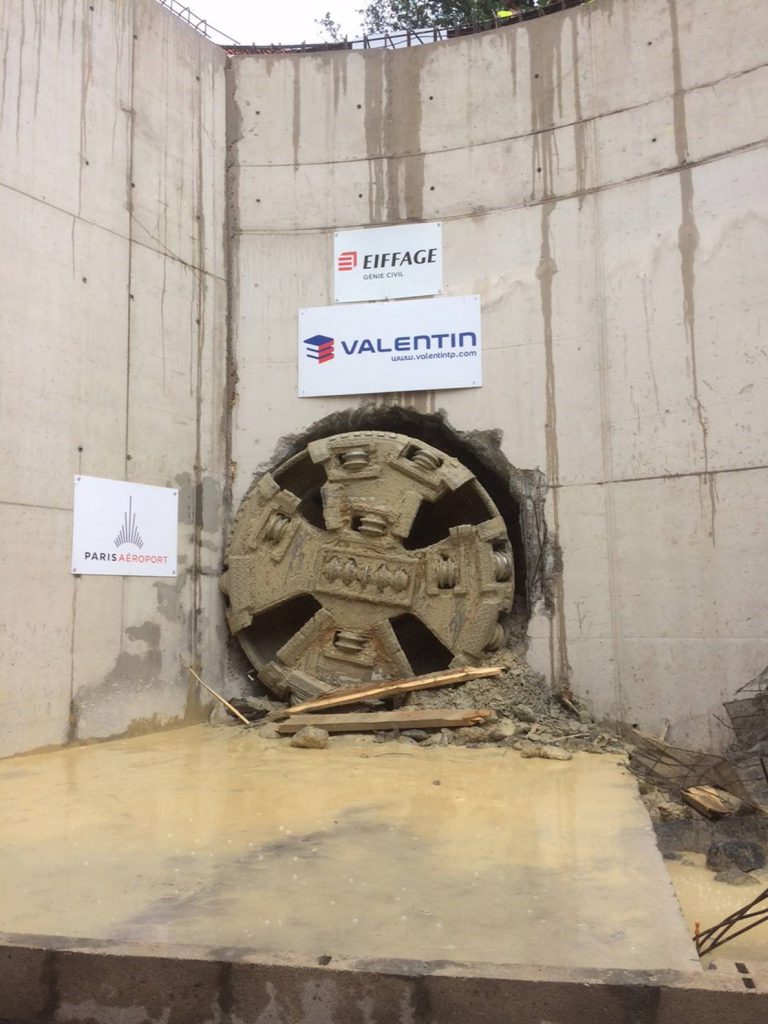 Whilst the first drive was planned to be a straight line bore, closer investigation of the prevailing conditions and the required location of the drive endpoints showed that the drive would be optimised by the introduction of a shallow curve. So, the VMT engineer on site helped to redesign the bore route with an 18,600 m radius curve which successfully achieved the optimisation of the drive route.
This realignment, the high degree of security at the airport and the prevailing conditions made for a challenging first drive in terms of both operations and access to ensure the safest working conditions for the airport staff and construction crew.
Ultimately the first drive was successfully completed in the required timeframe and the preparation for the second drive is at the time of writing well underway.
Auch dieses Jahr waren wir auf der international wichtigsten Kommunikations- und Netzwerk-plattform rund um die Geo-IT vertreten. Unser Präsentationsschwerpunkt lag dieses Jahr im Deformations­monitoring, welches von unseren weiteren Produkten für den Tunnelbau flankiert wurde.
Die Intergeo fungierte wieder als sehr gutes Kommunikationsforum, um mit unseren Kunden, Interessenten und Partnern interessante Gespräche zu Projekten und Technologien zu führen.
Auf großes Interesse stießen unsere Systemlösung für die Erfassung, Prozessierung, Auswertung und Visualisierung von Deformationsmessungen (MODUS) sowie unser VMT Daten Management System, das webbasiert Prozessdaten komplexer Infrastruktur-Baumaßnahmenkorreliert analysiert, visulalisiert und in Echtzeit weltweit zur Verfügung stellt.
Weil unser Unternehmen kontinuierlich wächst, wird die Gewinnung gut ausgebildeter, motivierter Mitarbeiter immer bedeutender. Auf einem separaten VMT Recruitment Stand konnten sich angehende Techniker und Ingenieure im direkten Austausch ein Bild über das Unternehmen und unser Produktportfolio machen. Auch dieses Angebot stieß auf großes Interesse.
Zur Verstärkung unseres Entwicklungsteams am Standort Bruchsal (bei Karlsruhe) suchen wir zum nächstmöglichen Zeitpunkt eine/-n Softwareentwickler .NET (m/w). Sie arbeiten entlang des gesamten Softwarelifecycles zur Neuentwicklung und Pflege modularer, datenbankbasierter Navigationssysteme sowie Arbeitsplatzanwendungen für den Tunnelbau.
Ihre Aufgaben:
Anforderungsanalyse
Programmierung
Systemintegration
Test
Wartung und Pflege unserer bestehenden Softwareplattform
Ihre Voraussetzungen:
Abgeschlossenes IT-Studium oder eine vergleichbare Ausbildung
Fundierte Programmierkenntnisse in C# idealerweise mit WPF als GUI-Technologie
Erfahrung in der Softwareentwicklung im .NET-Umfeld sowie mit relationalen Datenbanken, idealerweise Firebird und MS SQL
Erfahrung mit Scrum sowie mit agilen Entwicklungsmethoden und -prinzipien
Sie entfalten Ihre Technologie- sowie Methodenkompetenz und tragen zur Einhaltung unseres hohen Qualitätsanspruchs bei
Sie stellen sich neuen Herausforderungen und bleiben technologisch immer am Ball
Gute Deutsch- und Englischkenntnisse in Wort und Schrift
Teamfähigkeit und ausgeprägtes Kommunikationsvermögen
Selbstständige Arbeitsweise und Eigeninitiative
Arbeiten und denken als Unternehmer/-in im Unternehmen
Unternehmerisches Denken
Wir bieten:
Abwechslungsreiche und herausfordernde Tätigkeiten
Ein modernes Arbeitsumfeld
Kompetente Betreuung während der Einarbeitungsphase
Möglichkeiten zur persönlichen Weiterentwicklung
Haben wir Ihr Interesse geweckt?
Dann senden Sie uns bitte Ihre aussagekräftige Bewerbung, ausschließlich als PDF, mit Ihrem
frühestmöglichen Eintrittstermin und Ihrer Gehaltsvorstellung per E-Mail an:
VMT GmbH
Sandra Dittes
Stichwort: Softwareentwickler .NET
Stegwiesenstraße 24
76646 Bruchsal
personal[at]vmt-gmbh.de
Zur Verstärkung unseres Entwicklungsteams am Standort Witten (bei Dortmund/Bochum/Hagen) suchen wir zum nächstmöglichen Zeitpunkt eine/-n Programmierer, Softwareentwickler, Developer (m/w) für die Weiterentwicklung und Pflege einer datenbankbasierten Desktopsoftware zur Visualisierung und Überwachung von Logistikprozessen im Tunnelbau.
Ihre Aufgaben:
Sie arbeiten entlang des gesamten Softwarelifecycles. Ihre Aufgaben erstrecken sich dabei von der Anforderungsanalyse über die Programmierung und die Systemintegration bis hin zu den erforderlichen Tests.
Die Wartung und Pflege unserer Software-Plattform rundet Ihr Aufgabengebiet ab.
Ihr Profil:
Ausbildung z. B. zum/zur Fachinformatiker/-in oder zum/zur mathematisch-technischen Softwareentwickler/-in oder abgeschlossenes IT-Studium, z. B. der (Wirtschafts-)Informatik
Kenntnisse im Bereich SQL-Datenbanken
Erfahrung im Einsatz von T-SQL
Erfahrung in C# und .NET
Verständnis von Logistikprozessen sowie ihrer Abbildung in Algorithmen und Datenstrukturen
Sehr gute Deutschkenntnisse, Englischkenntnisse vorteilhaft
Sie entfalten Ihre Technologie- und Methodenkompetenz und tragen zur Einhaltung unseres hohen Qualitätsanspruchs bei
Bereitschaft zur regelmäßigen Weiterbildungen
Wir bieten:
Kompetente, individuelle Betreuung während der Einarbeitungsphase (Patenmodell) für Ihren einfachen Start in den neuen Job
Mobilitätsunterstützung für einen stressfreien Arbeitsweg durch z. B. E-Bike-Leasing
Stärkung des familiären Zusammenhalts durch Firmenevents wie z. B. Skifreizeit, Sommerfest, Beachvolleyballturnier, Weihnachtsfeier
Wettbewerbsfähige Altersvorsorge, damit Sie für die Zukunft planen können
Haben wir Ihr Interesse geweckt?
Dann senden Sie uns bitte Ihre aussagekräftige Bewerbung, ausschließlich als PDF, mit Ihrem frühestmöglichen Eintrittstermin und Ihrer Gehaltsvorstellung per E-Mail an:
VMT GmbH
Sandra Dittes
Stichwort: Programmierer, Softwareentwickler, Developer (m/w) SQL
Stegwiesenstraße 24
76646 Bruchsal
personal[at]vmt-gmbh.de
The NorthConnex and WestConnex projects are two of the largest road expansion projects currently underway in Sydney, Australia. On the WestConnex section, which is being operated independent of the NorthConnex works, VMT has achieved contract wins for its equipment on Stage 1B M4 East and Stage 2 New M5, making this the largest supply contract in the company's history.
The WestConnex project has recently reached the first of several milestones that will mark the progress of the project with the breakthrough on first tunnelling section. Running for around 1 km between the Underwood and Concord sites, this first breakthrough is just one of a total of 25 tunnels (excluding xp's) which are being constructed over four separate jobsites. In total there are some 21 Roadheaders operating that are scheduled to complete a total of 7 km of twin road tunnels with an intricate web of exit ramps.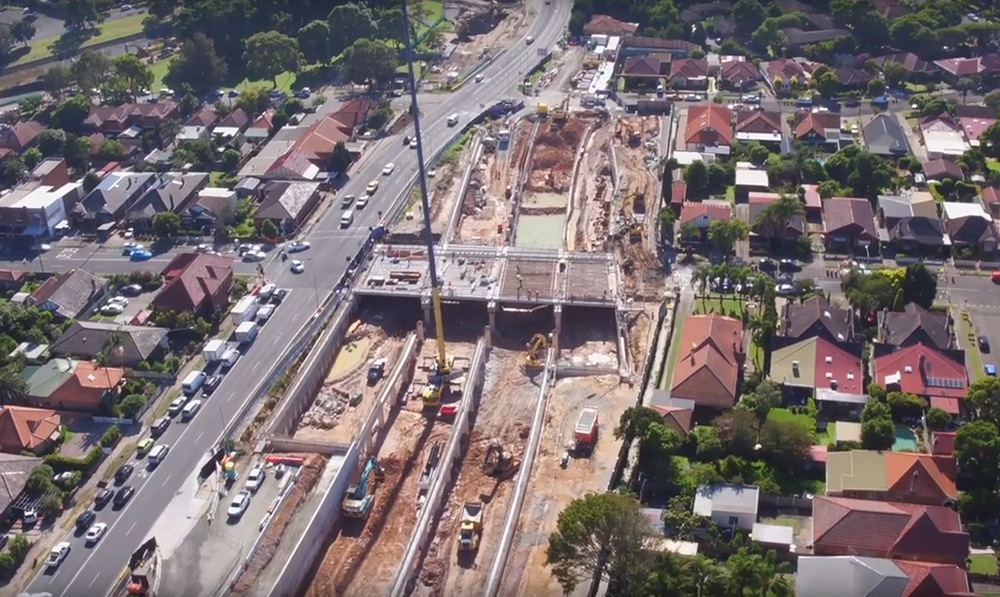 For this particular tunnel, contractor CBPJHD utilised a Mitsui S200 Roadheader to drive tunnel of 10 to 30 m diameter through very challenging ground conditions.
To date some 70% of the tunnel excavation work is complete, with all such works being due to finish by the end of 2017.
For its part VMT has been required to develop, deliver, commission and support some 57 navigation systems, including both hardware and software, between May 2016 and 2019 across both the project areas mentioned above.
The navigation equipment contracts required VMT to supply:
TUnIS Navigation Office servers and software for each site office for the collection, analysis and management of machine data.
Permanent service on site for system commissioning and support, plus training of Surveyors, Site Engineers and Operators.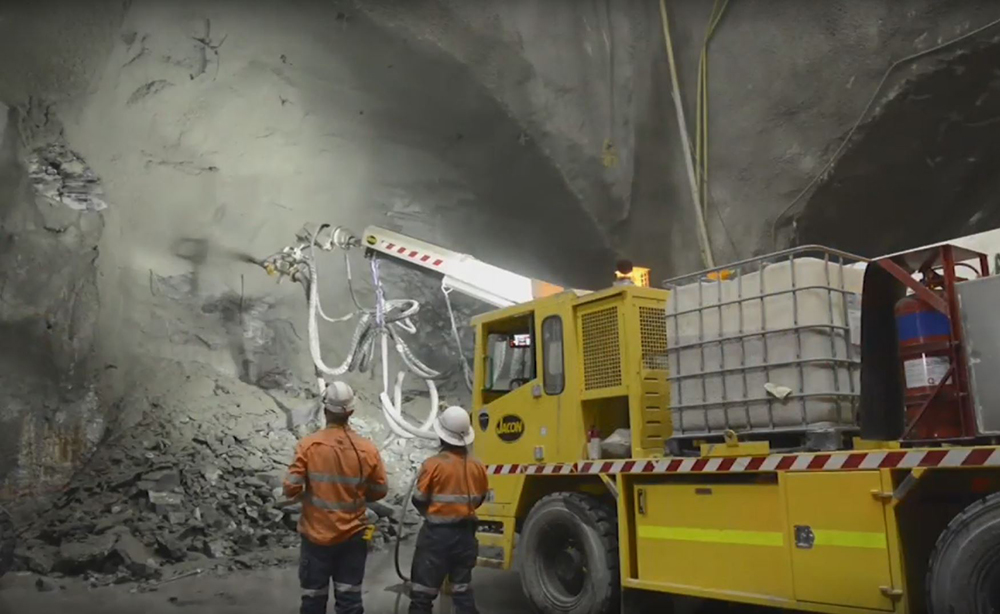 In terms of performance, the VMT engineers on site agreed that with the newly developed TUnIS Navigation Roadheader software being used for the first time, the project was a real challenge. However, in the event, it was proven that the programmers had completed a great job to deliver the software before the start of tunnelling.
In terms of the new hardware, previous hardware used on Roadheaders had become obsolete, and needed to be updated. The extreme environment in tunnels and the continual vibration of the excavation machines had to be accounted for and again to date all hardware has proven to be most reliable.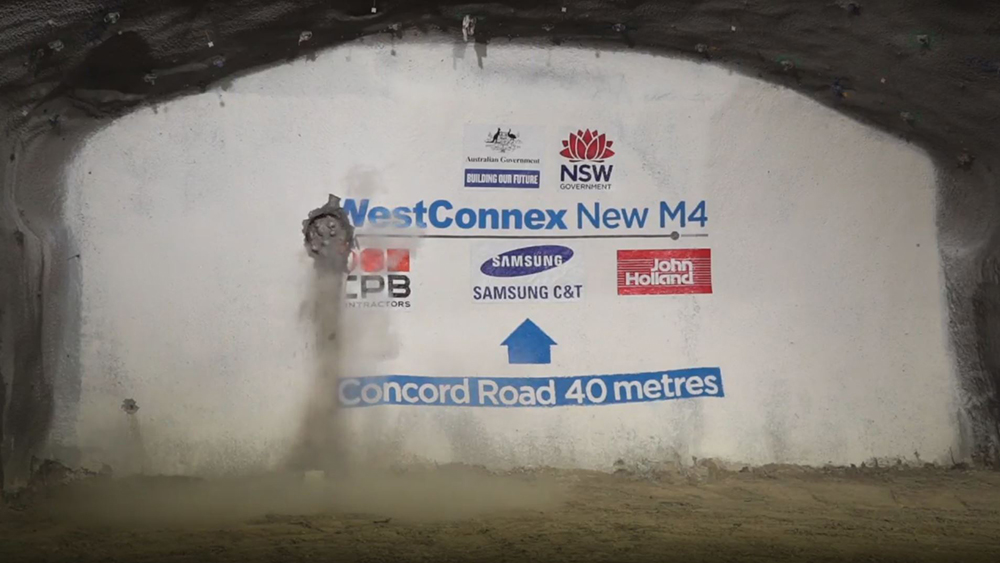 Collection of data relating to the excavations and machine movements has risen in demand in recent times and was a vital part of the WestConnex programme. VMT had to firstly collect the machine data from different manufacturers and then develop a way to reliably display the huge amounts of captured data online.
One of the biggest challenges for VMT has been the sheer number of machines on which to install, survey and commission equipment and this was quite an intense operation. Having completed the installation, the second part of the process was to train all the people how to use it. With operators, surveyors, electricians and engineers all involved in some part with maintaining the VMT guidance, this involved more than 100 people that needed to learn the systems from VMT's engineers.
Commenting on the progress to date VMT Project Engineer, Dan McPhail said:
"As with all underground construction projects there have been difficulties and challenges, but the VMT equipment provided, installed and supported by the onsite team has worked extremely well in the challenging conditions of the WestConnex operations. The team work between our own staff, the contractor and the client has proven to be a major contributing factor to the successes achieved to date."