Zur Unterstützung unseres neuen Produktbereichs VDMS (VMT Data Management System) – ein webbasiertes Prozessdatenmanagementsystem für den maschinellen Tunnelbau – suchen wir zum nächstmöglichen Zeitpunkt Projektingenieure (m/w).
Ihre Aufgaben:
Organisatorische und technische Abwicklung von Projekten
Überprüfung und Implementierung von Planunterlagen
Installation und Inbetriebnahme des Informationssystems VDMS
Durchführung von Kundenschulungen im eingesetzten Informationssystem VDMS inklusive Zusatzsystemen
First-Level-Support: erste Anlaufstelle für alle eingehenden Unterstützungsfragen
Kunden- und Lieferantendokumentation
Ergebnis der erbrachten Leistung kontrollieren mittels Kundenzufriedenheitsanalyse
Projektabwicklung in betriebswirtschaftlicher Hinsicht
Kundenbeziehungen aufbauen und pflegen
Unsere Anforderungen:
Abgeschlossenes Studium des Bauingenieurwesens, der Architektur o. Ä.
Kenntnisse in Geotechnik, Vermessungswesen, Geodäsie, Geoinformationssystemen und Baustellenerfahrung sind wünschenswert
Selbstständige Arbeitsweise und ein hohes Maß an Qualitätsbewusstsein
Ausgeprägte Kommunikations- und Teamfähigkeit
Interesse an fachübergreifenden Themen
Gute Deutsch- und Englischkenntnisse in Wort und Schrift, weitere Sprachen wünschenswert
Flexibilität und Bereitschaft zu Dienstreisen weltweit (ca. 30-40 % Reisetätigkeit)
Führerschein der Klasse B bzw. 3
Wir bieten:
Abwechslungsreiche und herausfordernde Tätigkeiten
Eine neue Abteilung mit einem internationalen und motivierten Team
Ein modernes Arbeitsumfeld
Kompetente Betreuung während der Einarbeitungsphase
Möglichkeiten zur persönlichen Weiterentwicklung
Haben wir Ihr Interesse geweckt?
Dann senden Sie uns bitte Ihre aussagekräftige Bewerbung, ausschließlich als PDF, mit Ihrem frühestmöglichen Eintrittstermin und Ihrer Gehaltsvorstellung per E-Mail an:
VMT GmbH
Sandra Dittes
Stichwort: Projektingenieure VDMS
Stegwiesenstraße 24
76646 Bruchsal
personal[at]vmt-gmbh.de
On 21 June, 2017, at about 14.43, the final breakthrough was achieved on the Belchen Tunnel renovation project.
The Belchen tunnel runs along the A2, between Basel and Egerkingen in Switzerland and crosses the Juragebirge, a ridge that is interspersed with large amounts of gypsum. This has caused damage to the existing tunnel support structure due to ground swelling.
To alleviate the problem, a rehabilitation programme was developed for the two existing tunnels which date from 1970. To facilitate this work the new Belchen Restructuring Tunnel (STB) has been built as a relief road to minimise traffic restrictions associated with the renovation work on the existing tunnels. The construction process places high demands on the design, procedures, construction and maintenance of the north-south axis, which is important for traffic management.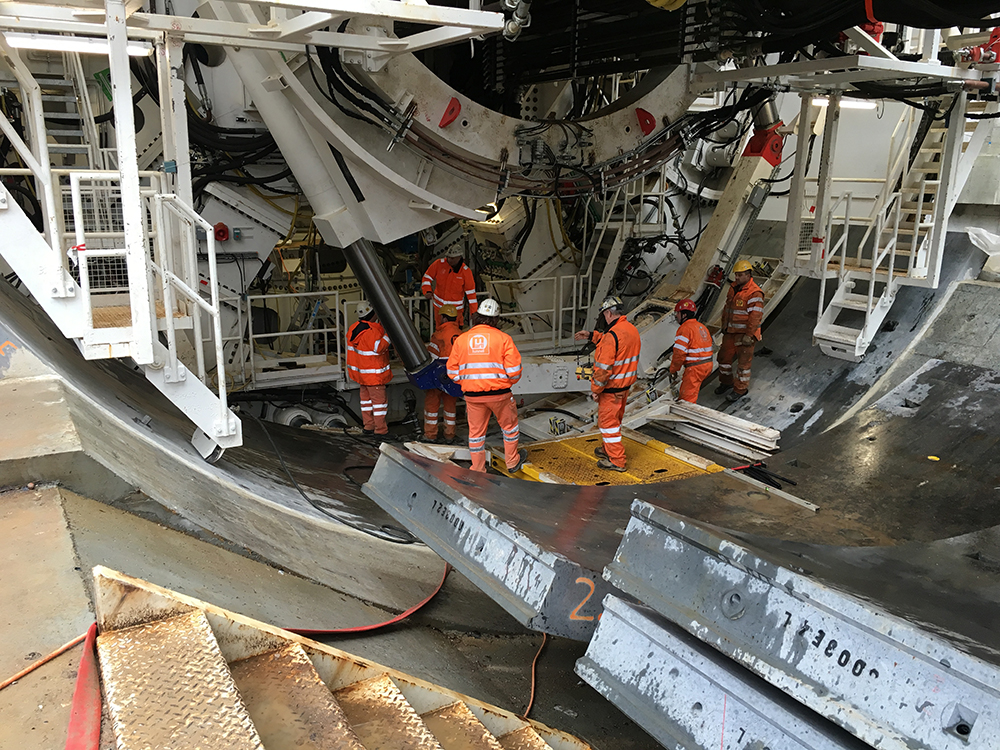 After preliminary works in 2015, the main tunnel works started in February 2016, using what is to date the largest tunnel boring machine (TBM) ever used in Switzerland. The large diameter tunnelling machine (LDT) was 13.97 m diameter and was required to complete some 3,177 m of tunnel. To add to the complexity of the tunnel, it was required to include a curve of 1,250 m minimum radius and a formwork carriage which was pulled in behind the TBM.
Overall the tunnelling work was a very complex logistical operation inside the tunnel which also included the utilisation of a multi-service vehicle (MSV). All the spoil produced during the tunnelling works was transported from the tunnel via a conveyor belt, supplied by Marti AG, directly to a landfill site located some 1.6 km from the tunnel portal.
Maintenance of the correct tunnel alignment and level was therefore critical to the success of the operation, as was the correct installation of the tunnel lining ring segments. The contractor chose VMT systems to support these aspects of the work with the utilisation of TUnIS Navigation TBM Laser, TUnIS Ring Sequencing, Automatic Tailskin Clearance Measurement System SLuM Ultra which enhances the ring build process by measuring the ring position relative to tailskin axis of the TBM with millimetre-accuracy, TUnIS Navigation Office for the monitoring of the tunnel progress and IRIS.tunnel with a local server which offers a comprehensive data management and analysis tool for tunnelling machine data that then allows the TBM to be continuously adjusted and optimised to the prevailing geological conditions, all of which made the works compliant with EN 16191 standard.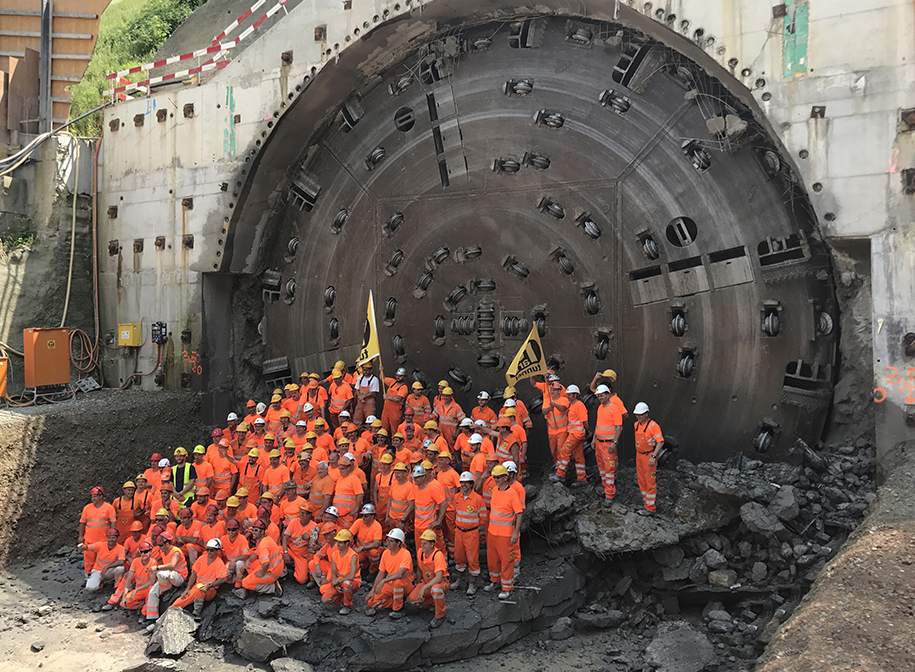 After commissioning in 2021, the two existing 50 year old tunnels will be refurbished. Subsequently traffic will flow southwards through the renovated tunnel. After completion of the repair work, two tunnel tubes or four lanes will still be available for traffic.
The project is being undertaken by the Federal Roads Authority (ASTRA), Jürg Röthlisberger, the cantonal committees of the cantons of Basel-Landschaft and Solothurn.
The Metro Crenshaw/LAX Line will extend the current Los Angeles, USA Metro system from the existing Metro Exposition Line at Crenshaw and Exposition Boulevards.
The new line will travel some 8½ miles (13.7 km) to the Metro Green Line and will serve the cities of Los Angeles, Inglewood and El Segundo and portions of unincorporated Los Angeles County. The new Metro Rail extension will offer an alternative transportation option to congested roadways and provide significant environmental benefits, economic development and employment opportunities throughout Los Angeles County. The Crenshaw/LAX Project is one of 12 transit projects funded by Measure R, a 0.5 cent sales tax approved by Los Angeles County voters in 2008.
As part of the construction operation tunnelling works were recently completed that comprised the installation of two 18.8 ft (5.7 m) diameter, 5,400 ft (1,646 m) long tubes between Expo Station and Leimart Park, Los Angeles. The tunnelling works were completed by contractor Walsh/Shea Corridor Constructors using a Herrenknecht-manufactured Earth Pressure Balance (EPB) TBM.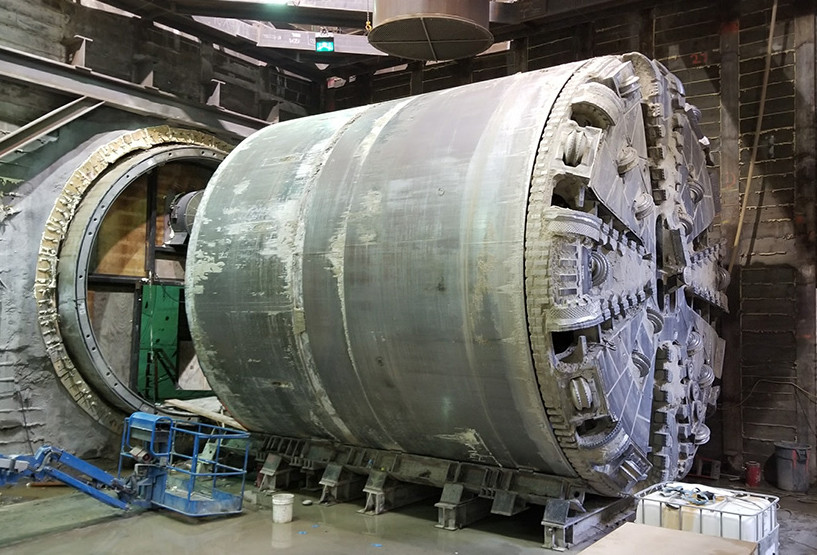 The bores in question were both installed with included curves of 1,000 ft (305 m) radius and therefore required specialist navigation techniques to ensure the curves and tunnel alignment were precisely to specification.
This was achieved in conjunction with VMT GmbH, which has a long established reputation in the US tunnelling market, which provided a selection of navigation technology and data management systems that were used to provide navigation during the tunnelling operation.
VMT provided its latest navigation system TUnIS Navigation TBM Laser which comprises a total station and a target unit installed within the TBM shield which determines the current TBM advance position; TUnIS Navigation Office which provides real-time navigation and ring data from one or more TBMs allowing the navigation system to be directly monitored from the site office and TUnIS Ring Sequencing which automatically calculates the optimum ring sequence for tunnel advances that include segmental lining.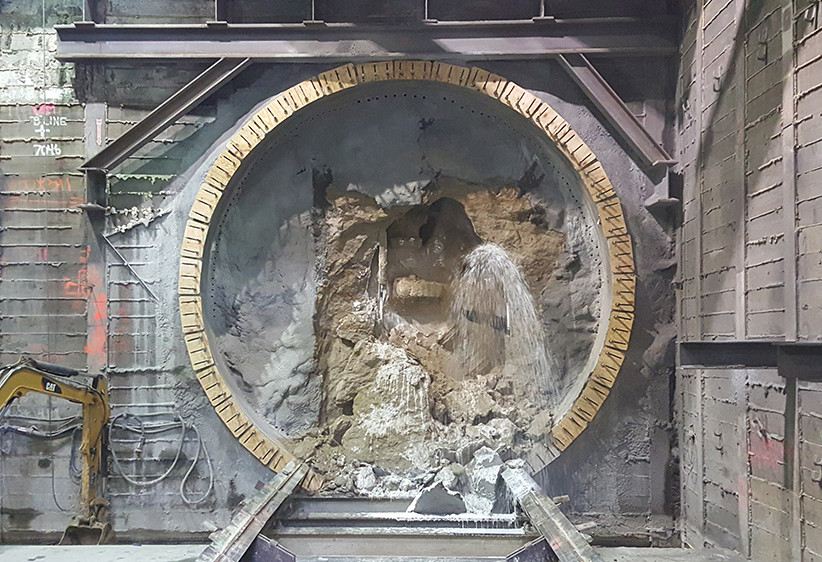 Further to this the tunnelling operation also utilised IRIS.tunnel and IRIS.geomonitoring software. IRIS.tunnel offers a comprehensive data management and analysis tool that allows TBM tunnelling to be continuously adjusted and optimised to the prevailing geological conditions. IRIS.geomonitoring is a comprehensive monitoring program which provides geotechnical measurements to monitor the stability of diaphragm walls, drainage measures, etc. at all times. Extensive sensing data from measurements on existing buildings, influenced by tunnelling projects must frequently be taken into account. Increasingly, these measurements are performed automatically, virtually in real time, thereby yielding large data volumes. Results from manual measurements recorded at regular time intervals must also be processed. IRIS.geomonitoring, can efficiently manage and make available this data in an intelligible and user-friendly format to all project participants.
The supplied equipment was required to meet Class 1 Div 2 – special components specifications.
The Crenshaw/LAX tunnels commenced in April 2016 and tunnelling was completed in April 2017 to the project specifications required.