The New Suez Canal Project in Egypt comprises a new 72 km long canal branch which runs parallel to the existing 190 km long Suez Canal and runs from Deversoir to al-Balah. As part of the new development aimed at bring major economic benefit to this part of the Middle East, four new tunnels are being constructed running beneath the Canal to connect the Sinai Peninsula to the Egyptian mainland.
Two of the tunnels are for road traffic and are located at Port Said and the other two tunnels (also for road traffic) are located in Ismailia, an industrial zone west of the Gulf of Suez.
The road tunnels in Ismailia reach about 50 m depth, over a 4.8 km length with a 10.6 m inner diameter. Each tunnel has two 3.75 m wide lanes for vehicles. Whereas the road tunnels in Port Said have the same geometrical parameters, but being 3.2 km long they are a bit shorter.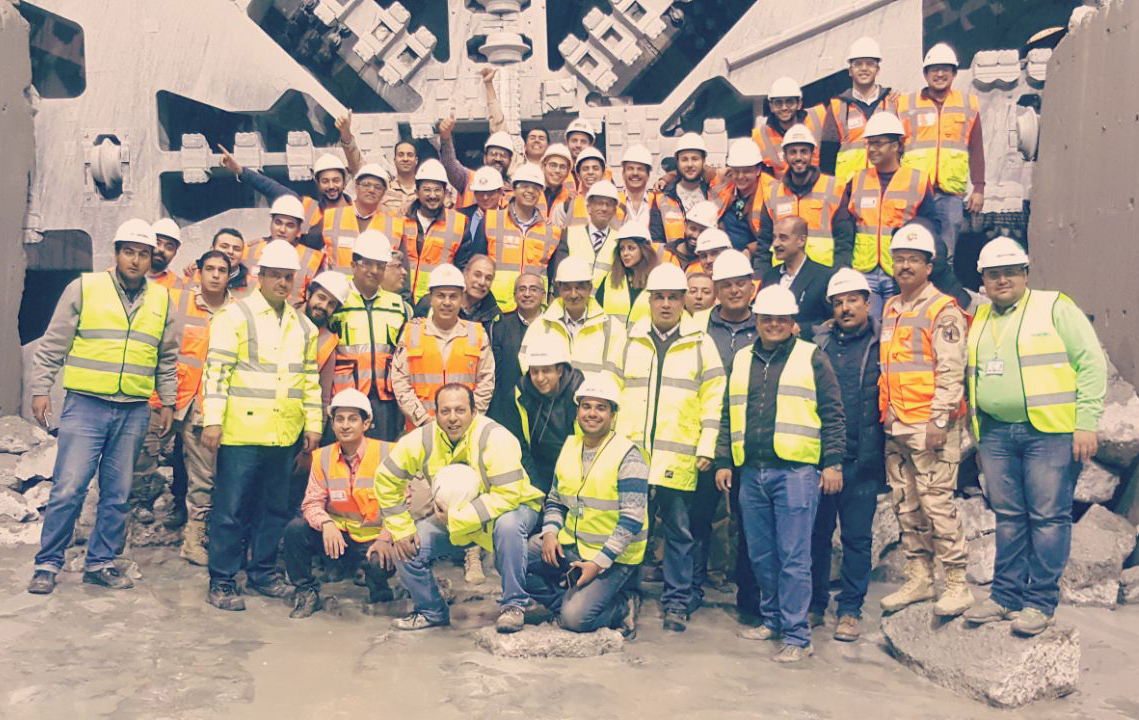 Herrenknecht has provided four TBMs for the construction of the tunnels. Having started the first of the Ismailia tunnels in November 2015, the first TBM recently achieved breakthrough on this 13.05 m diameter, 4,842 m long bore on 3 December 2017. The next TBMs followed in a 1-2 week break through rhythm on 14 December 2017 (S-959), 23 December 2017 (S-960) and the last on 4 January 2018 (S-961).
The client was the Egypt Armed Forces, with the main construction companies in Ismailia being Petrojet and Concord for the TBM S-958 and TBM S-960 works. The subcontractors for the TBM operation were CMC and Razel. In Port Said the Joint Venture was built by Orascom and Arab Contractors for TBM S-959 and TBM S-961 and the TBM operation was supported by Wayss und Freytag.
At the time of writing, all 4 tunnels are at or near completion in terms of tunnelling but there are still are works on cross-passages, road surfaces and interior construction/fitting-out to be completed.
Supporting the tunnelling process, VMT has provided several of its world-leading tunnelling product lines including:
Special thanks were given to the VMT site team by VMT's project engineer, Robert Schuppenhauer, for their work on installation of these systems and their patient support of the jobsite during the advance phase to the successful breakthrough. In particular, thanks go to Hassan Abourrig and Peter Bläsi for their work on the TUnIS Navigation TBMLaser; Steffen Belz and Norbert Bittmann for their work with the Segment Documentation System SDS and Jochen Kauselmann for his work on the IRIS system.
Zur Verstärkung unseres Entwicklungsteams am Standort Bruchsal (bei Karlsruhe) suchen wir zum nächstmöglichen Zeitpunkt einen: Softwaretester (m/w).
Ihre Aufgaben:
Planung und Durchführung der testbezogenen Tätigkeiten in einem agilen Entwicklungsteam
Berücksichtigung von Kundenanforderungen, Architektur und Schnittstellen moderner Websysteme
Analyse von Anforderungsdokumenten und Erstellung von Testspezifikationen für manuelle sowie automatisierte Tests
Definition, Installation und Inbetriebnahme der Testumgebung
Analyse von Testergebnissen
Erstellen von Fehlerberichten und Kontrolle der Fehlerbehebungen
Ihre Voraussetzungen:
Abgeschlossene Ausbildung (z. B. zum/zur Fachinformatiker/-in) oder abgeschlossenes Studium im Bereich Informatik, Wirtschaftsinformatik, Geoinformatik, IT o. Ä.
Berufserfahrung wünschenswert
Gute bis sehr gute Kenntnisse in den folgenden Bereichen:
im Umgang mit Datenbanken

Datenbanken (MySQL, MongoDB)
Test-Case-Erstellung und Wartung bereits existierender Test-Cases
Testdaten anhand von Vorgaben editieren bzw. neu erstellen

Gute Kenntnisse und Erfahrung in modernen Entwicklungsumgebungen sowie Entwicklungsmethoden (Scrum)
Strukturiertes Arbeiten in einer Testumgebung
Linux- oder UNIX-Kenntnisse wünschenswert
Interesse an modernen Interfaces und digitalen Trends
Sie stellen sich neuen Herausforderungen und bleiben technologisch immer am Ball.
Teamfähigkeit und ausgeprägtes Kommunikationsvermögen
Gute Deutsch- und Englischkenntnisse in Wort und Schrift
Wir bieten:
Abwechslungsreiche und herausfordernde Tätigkeiten
Eine neue Abteilung mit einem internationalen und motivierten Team
Ein modernes Arbeitsumfeld
Kompetente Betreuung während der Einarbeitungsphase
Möglichkeiten zur persönlichen Weiterentwicklung
Haben wir Ihr Interesse geweckt?
Dann senden Sie uns bitte Ihre aussagekräftige Bewerbung, ausschließlich als PDF, mit Ihrem frühestmöglichen Eintrittstermin und Ihrer Gehaltsvorstellung per E-Mail an:
VMT GmbH
Sandra Dittes
Stichwort: Softwaretester
Stegwiesenstraße 24
76646 Bruchsal
personal[at]vmt-gmbh.de