Segment Documentation System SDS
In tunnelling projects worldwide, hundreds of segments are installed every day to create small or large tunnels. Tracking these segments from production up to installation into the tunnel is of great importance for smooth project process as well as optimum quality.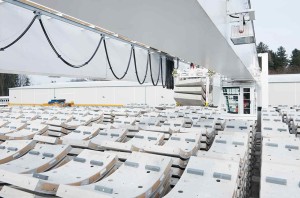 To perform this construction logistics task, VMT have developed the Segment Documentation System SDS. From pouring concrete through installation in the tunnel, SDS ensures each segment is produced according to the specifications and its logistics tracked. Our customers have thus access to all material, production, storage, and usage data.
From simply gathering data using portable scanners to comprehensive control systems for segment production including inventory management, transport, and time-controlled procurement, our product meets all requirements. The modular concept of SDS enables extension to adjacent processes by means of comprehensive quality management features.
For more information to SDS – watch our Product film here
It may be combined in an optimum way with other VMT products. For example, it obtains planning and demand specifications from TUnIS Ring Sequencing to optimize segment production scheduling; an interface to mould and segment measurement is used to continuously evaluate and record construction tolerances; VDMS obtains the segment data from SDS and may present it on the web, together with data from tunnelling.
Other complementary products for monitoring and installation of segments in the tunnel include: ring convergence measurement, ring planarity check as well as systems for calculating the available space in the tailskin.