Deformation Monitoring System MODUS
For monitoring safety critical equipment and structures, we provide a tailored monitoring system.

MODUS is aimed at detecting risks for building projects in built-up and residential areas at an early stage to avoid accidents and damage. It may be used for structures above or below ground, infrastructure facilities, civil engineering structures such as bridges, towers, or tunnels, river dams or barrages, unstable slopes, volcanoes as well as excavation pits and safety barriers.
To evaluate and assess geometric changes at a building, sensors are installed and their measured values continuously analyzed. When critical changes occur, automatic warning and alarm messages are sent via email or SMS to enable immediate action.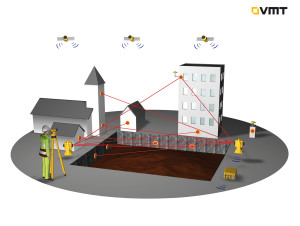 According to customer requests, our deformation monitoring includes the necessary hardware, geosensor networks for gathering data and transferring into a database plus TUnIS Deformation Monitoring software for data analysis, reporting and alarm management.