Zur Verstärkung unseres Teams Projektmanagement am Standort Bruchsal (bei Karlsruhe) suchen wir zum nächstmöglichen Zeitpunkt eine/-n Projektcontroller (m/w/d).
Ihre Aufgaben:
Als Controller/-in durch und durch erstellen Sie in Zusammenarbeit mit den Projektingenieuren/-innen Plankalkulationen und aktualisieren diese während des Projektverlaufes in Abstimmung mit dem/der Projektleiter/-in. Routiniert überwachen Sie die Projektabwicklung und die Kostenentwicklung bei aktiven Projekten anhand der Meilensteine bzw. des Kostenbudgets und prüfen die Projektkontierungen in Abstimmung mit der Buchhaltung.
Aufgrund Ihrer analytischen Fähigkeiten erstellen Sie Projekt-Forecasts für das laufende und zukünftige Geschäftsjahr.
Im Rahmen der Projektabwicklung führen Sie ein aktives Forderungsmanagement durch.
Ihr technisches Verständnis setzen Sie im Change-Management, bei der Integration von Prozessen sowie dem Schnittstellenmanagement unseres ERP-Systems SIVAS zu unserer Buchhaltungssoftware SBS ein.
Ihr Profil:
Abgeschlossenes Studium in Wirtschaftswissenschaften, International Business oder einem vergleichbaren Studiengang oder abgeschlossene kaufmännische Ausbildung (mit dem Baustein "Projektmanagement" und/oder "Controlling") mit Berufserfahrung
Interesse an der kaufmännischen Projektabwicklung von technischen Projekten
Hohe Zahlenaffinität und ausgeprägte analytische Fähigkeiten sowie gutes technisches Verständnis
Fundierte Kenntnisse im Umgang mit dem MS-Office-Paket (insbesondere Excel)
Gute Deutsch- und Englischkenntnisse in Wort und Schrift, weitere Sprachen gerne on top
Wir bieten:
Kompetente, individuelle Betreuung während der Einarbeitungsphase (Patenmodell) für Ihren einfachen Start in den neuen Job
Kantinenbetrieb mit eigener Köchin, täglich frische Obst-/Gemüsekörbe und Getränkeflatrate für das leibliche Wohl
Mobilitätsunterstützung für einen stressfreien Arbeitsweg durch z. B. E-Bike-Leasing
Stärkung des familiären Zusammenhalts durch Firmenevents wie z. B. Skifreizeit, Sommerfest, Beachvolleyballturnier, Weihnachtsfeier
Wettbewerbsfähige Altersvorsorge, damit Sie für die Zukunft planen können
Haben wir Ihr Interesse geweckt?
Dann senden Sie uns bitte Ihre aussagekräftige Bewerbung, ausschließlich als PDF, mit Ihrem frühestmöglichen Eintrittstermin und Ihrer Gehaltsvorstellung per E-Mail an:
VMT GmbH
Tanja Hoffmann
Stichwort: Projektcontroller (m/w/d)
Stegwiesenstraße 24
76646 Bruchsal
personal[at]vmt-gmbh.de
The Boßler Tunnel, currently under construction is part of the new NBS Wendlingen-Ulm high-speed railway.
At 8,806 metres (28,891 ft) long, the tunnel is being built as two parallel single-track tunnels which will run between Aichelberg and Mühlhausen im Täle under the Roter Wasen and the Boßler Mountain. It is one of a series of tunnels underneath the Swabian Jura range and when completed, it will be the longest tunnel on the new rail line and the fifth longest tunnel in Germany.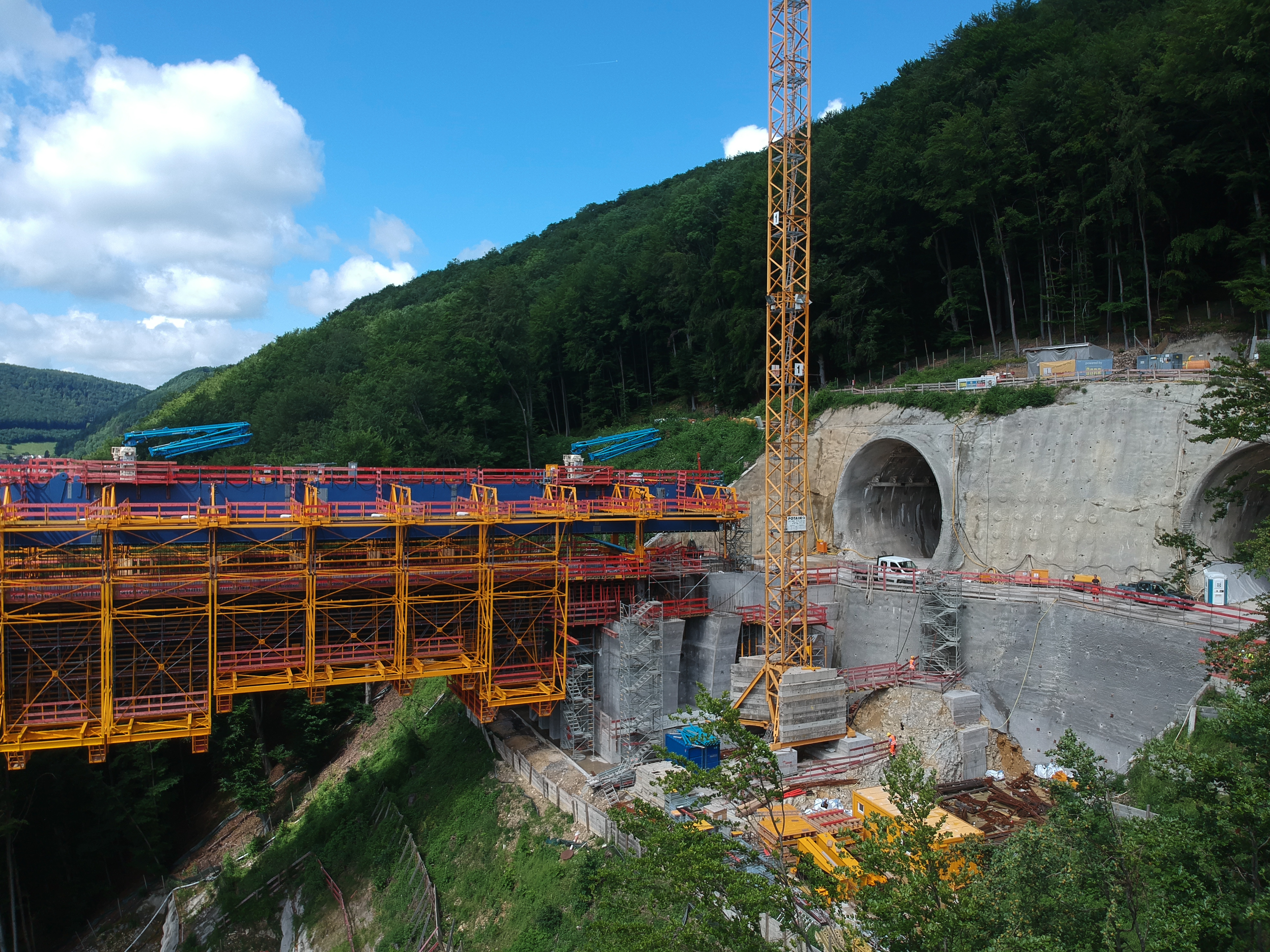 Tunnelling began back in 2015 when the East bound tunnel was commenced. This drive was completed in November 2016. The most section was the Westbound tunnel which started construction in April 2017 with the large diameter TBM holing through in June 2018.
The 11.34 m diameter, Herrenknecht-manufactured TBM successfully recently completed the second of the two bores. The first bore was 8,822 m long and the second was 8,806m long each having a minimum curve radius of 2,306 m. The two tunnels exit the underground section of the railway line directly at the start of the new 'Filstalbrücke', a 485 m long and 85 m high bridge over the Filstal River and highway A8.
VMT's operations across the tunnelling works comprised supplying and supporting various guidance and production support systems and equipment including: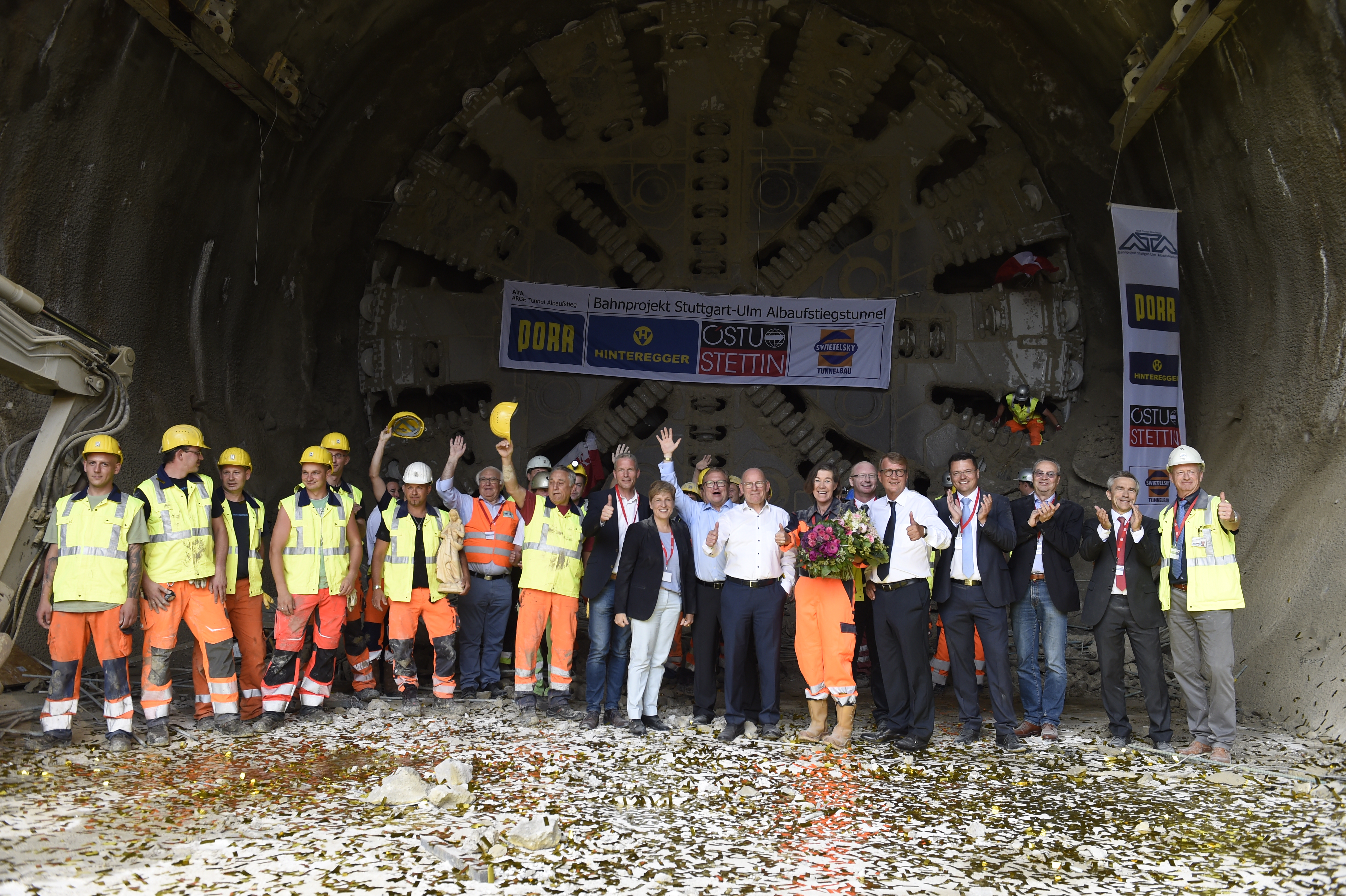 The project also utilised a HADES information and communication system throughout the works.
In this instance the VDMS and SDS systems were interfaced to maximise data availability as this project, apart from one other the Koralmtunnel (KAT 2), has required the most significant adaptation of the SDS system to date in order to meet the project requirements.