Zur Verstärkung unseres Teams IT-Hardware am Standort Bruchsal (bei Karlsruhe) suchen wir zum nächstmöglichen Zeitpunkt eine/-n Fachinformatiker als Systemingenieur und Systemintegrator (m/w/d) IT-Hardware.
Ihre Aufgaben:
Aufgrund Ihres spezifischen Know-hows führen Sie Betriebssystemkonfigurationen und -installationen durch und automatisieren diese für Linux- und Windows-basierte Systeme (Server und Clients). Dabei überblicken Sie auch Systemgrenzen sowie Systemabhängigkeiten.
Sie unterstützen die Kollegen/Kolleginnen im Produktmanagement bei der Auswahl und dem Einsatz neuer Hardwarekomponenten. Weiterhin führen Sie interne Schulungen zu unseren Systemen durch.
Mit Ihrer korrekten Arbeitsweise fällt es Ihnen leicht, unsere Systeme zu testen und zu betreuen sowie die dazugehörige Dokumentation zu erstellen.
Mit unserem internen Ticketsystem bearbeiten Sie auftretende Fehler, analysieren diese und beseitigen Störungen.
Ihr Profil:
Idealerweise abgeschlossene IT-Ausbildung, z. B. zum/zur Fachinformatiker/-in für Systemintegration oder vergleichbare Ausbildung
Erfahrung im Bereich Windows-/Linux-Clients und Serverbetriebssysteme
Erfahrung mit Netzwerken (TCP/UDP, IP, Ethernet)
Kenntnisse in den Bereichen Server-, Industrial- und Netzwerkhardware
Spaß am Erschließen neuer Themen
Gute Deutsch- und Englischkenntnisse in Wort und Schrift, weitere Sprachen gerne on top
Flexibilität und Bereitschaft zu Dienstreisen weltweit (ca. 1 bis 3 Einsätze pro Jahr)
Führerschein der Klasse B bzw. 3
Wir bieten:
Kompetente, individuelle Betreuung während der Einarbeitungsphase (Patenmodell) für Ihren einfachen Start in den neuen Job
Kantinenbetrieb mit eigener Köchin, täglich frische Obst-/Gemüsekörbe und Getränkeflatrate für das leibliche Wohl
Mobilitätsunterstützung für einen stressfreien Arbeitsweg durch z. B. E-Bike-Leasing
Stärkung des familiären Zusammenhalts durch Firmenevents wie z. B. Skifreizeit, Sommerfest, Beachvolleyballturnier, Weihnachtsfeier
Wettbewerbsfähige Altersvorsorge, damit Sie für die Zukunft planen können
Haben wir Ihr Interesse geweckt?
Dann senden Sie uns bitte Ihre aussagekräftige Bewerbung, ausschließlich als PDF, mit Ihrem frühestmöglichen Eintrittstermin und Ihrer Gehaltsvorstellung per E-Mail an:
VMT GmbH
Tanja Hoffmann
Stichwort: Fachinformatiker als Systemingenieur und Systemintegrator IT-Hardware
Stegwiesenstraße 24
76646 Bruchsal
personal[at]vmt-gmbh.de
Die STUVA gibt uns noch einmal die Gelegenheit, mit unseren Kunden und Partnern auf 25 Jahre VMT anzustoßen, die gemeinsame Vergangenheit Revue passieren zu lassen, aber vor allem zusammen in die Zukunft zu schauen.
Wir freuen uns, unsere Gäste auf unserem Stand D153 (schräg gegenüber dem Herrenknecht Stand) begrüßen zu dürfen.
Hier erwarten Sie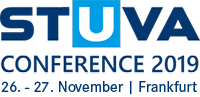 VMT-Produktinnovationen bei unseren Softwarelösungen und Hardware-Komponenten im Bereich Navigations- und Ergänzungssysteme, neue App-Entwicklungen und noch einiges mehr
Leckere Schmankerln in flüssiger und fester Form aus unserer badischen Heimat
The S21 Stuttgart–Ulm rail project involves the complete restructuring of the Stuttgart rail hub plus the construction of a new line between Wendlingen and Ulm. It is the largest upgrading project for public rail transport in Baden-Württemberg region since the 19th century and is currently one of the largest construction projects in Germany.
As part of this construction project the Fildertunnel forms a twin bore rail tunnel where mechanized excavation started in 2014 utilising a Herrenknecht Multi-mode TBM with a diameter of 10.82 m.
The twin bore comprised the tunnelling of two 9.5 km long tunnels with included curves of minimum radius 2,300 m.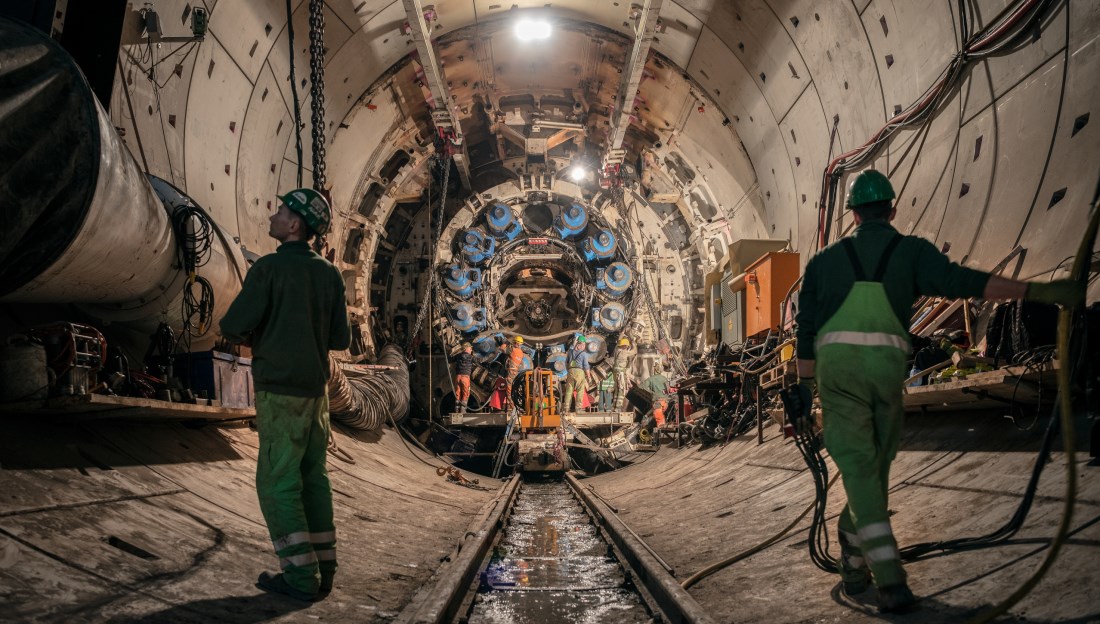 Work first started on the Fildertunnel in November 2014. Tunnelling was completed in four sections with the first breakthrough occurring in November 2015, the second in July 2017, the third in July 2018 and the final breakthrough occurring in September 2019.
TBM guidance throughout the various tunnelling sections of the project was provided and supported by VMT, which has its offices close to the project site. The VMT navigation used for the project was the TUnIS Navigation TBMLaser system. Based on a total station and a target unit installed within the TBM shield, it determines the current advance position. Even for segment machines using a small or limited laser window, the machine position is continuously calculated during short-term interruptions. TUnIS Navigation TBMLaser offers high reliability since it provides temporary navigation through the thrust cylinders with the aid of the newly developed TUnIS Track Assistant system.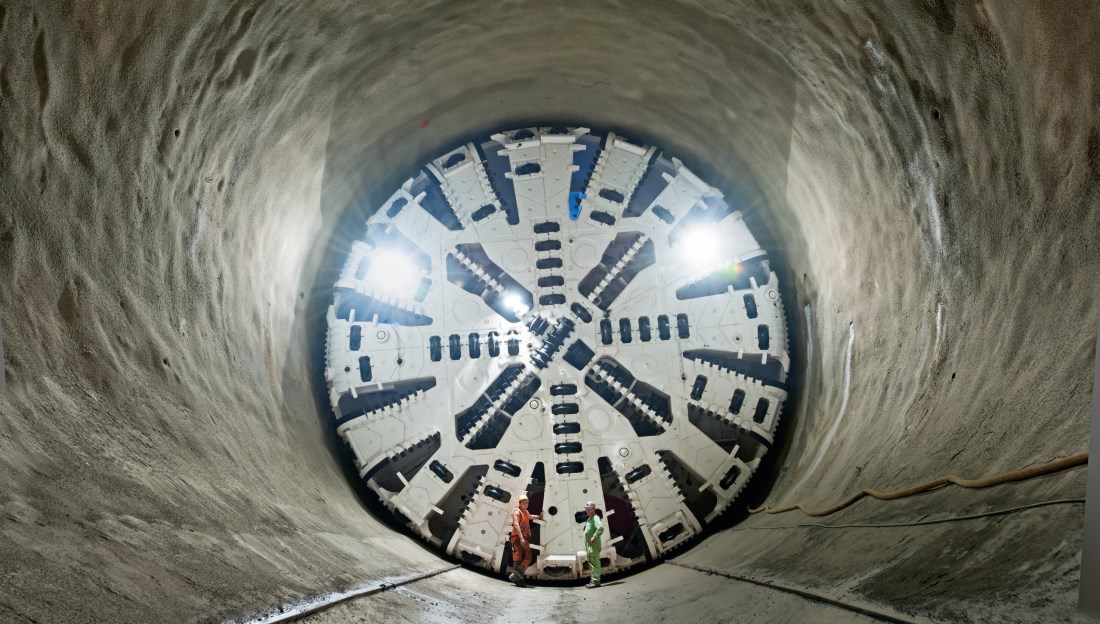 An IRIS system (now known as VDMS – VMT Data Management System) was also utilised on the project. IRIS/VDMS processes and correlates data from a variety of different sources, analyses them and displays them in user-friendly form so that they can be made available to project managers on site or worldwide in a wide range of output forms. The system ensures full information and transparency and supports the efficient control of both the TBM and also many other operating processes within tunnelling projects. As a web-based system, the system can be operated easily from any internet browser on site or as in this case the system can be located locally, solely on site.
The jobsite experienced few problems however at one stage the TBM was found to be drifting. In association with the tunnelling engineers it was decided to change the setting for the support ring sequencing to compensate for this behaviour, in the calculation of the ring orientation.
At a Glance Fact Sheet:
| | | |
| --- | --- | --- |
| | Project Name or Designation/Timescale | S21 Stuttgart–Ulm rail project – Fildertunnel |
| | Location | Stuttgart, Germany |
| | Project requirement | Upgrading rail links between Stuttgart and Ulm |
| | Technique | Large Diameter Tunnelling |
| | Diameter/Length/Bend Radius | 10.82 m diameter x 9.5 km tunnels with a minimum bend radius of 2,300 m |
| | VMT System utilised | TUnIS Navigation TBMLaser with an IRIS/VDMS – VMT Data Management System |
| | Challenges | Long distance tunnelling over several years |
The construction of a new sewage tunnel in Nice, France required a sea outfall to be installed using a tunnelling procedure. Using microtunnelling the sea outfall was designed as a 482 m long installation running along a straight route, holing out on the seabed some 450 m from the shoreline.
The 1,600 mm diameter pipeline was installed with a Herrenknecht AVN1600 using concrete pipes with a wall thickness of 280 mm. A VMT SLS-Microtunnelling LT navigation system provided the guidance necessary to keep the bore on the required line and level.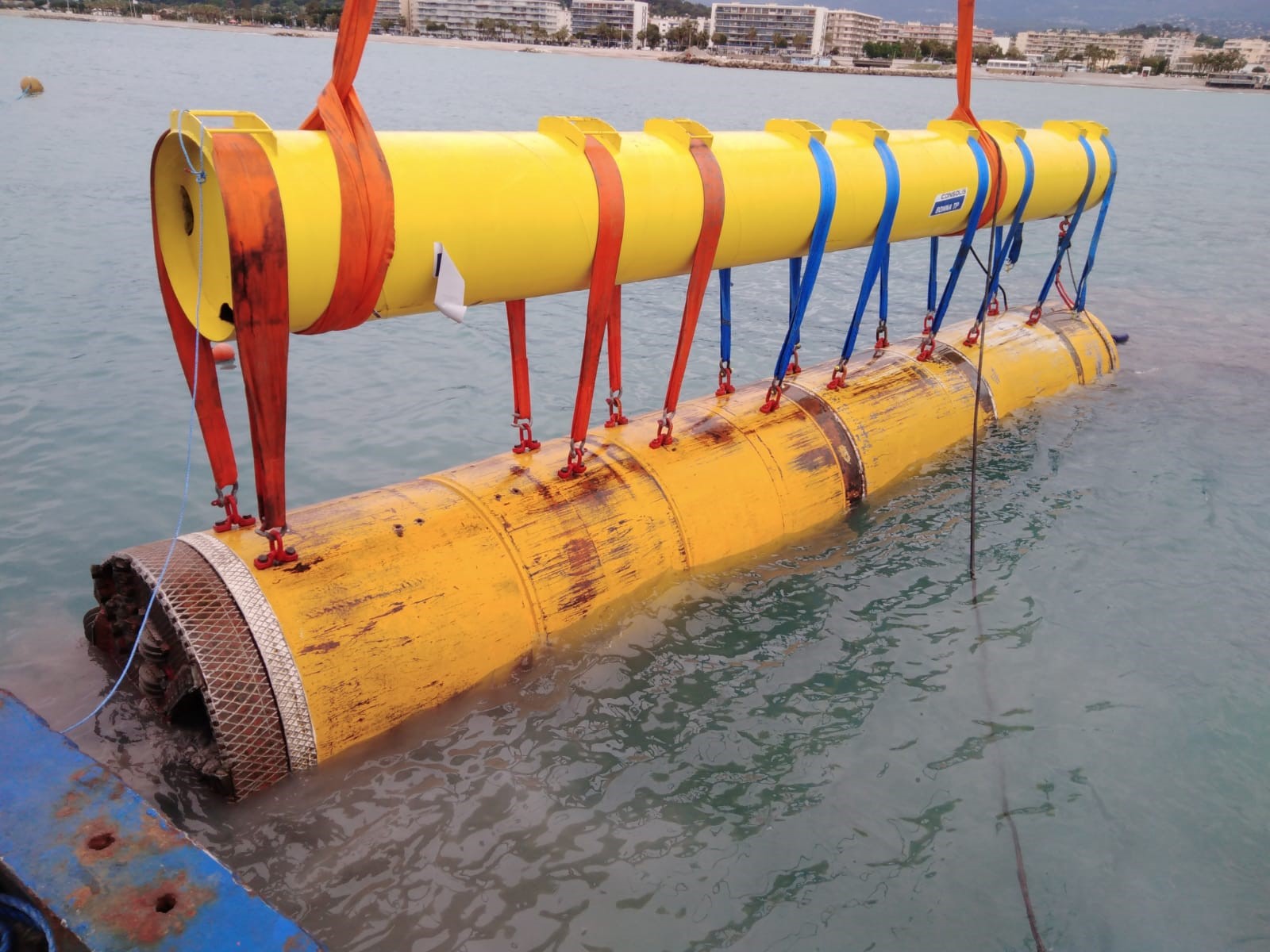 The first 115 m of the straight drive was completed using a laser guidance system already owned by the contractor. Beyond this, however, there was a requirement for a more sophisticated system to ensure the successful completion and accuracy of the drive to its terminus some 400 m further out under the sea. Therefore it was decided to introduce the VMT SLS-Microtunnelling LT system.
The contractor, Ludwig Pfeiffer, commented that the selection of the VMT navigation system was an easy one given that the company had worked with VMT on many occasions previously with excellent results. For the Nice project the contractor purchased a brand new SLS-Microtunnelling LT system to utilise.
For the recovery of the machine, a module was installed to remotely disconnect electrical and data cables as well as the slurry line. Then thanks to the previously installed lifting eyes on its upper side, the TBM can be lifted with the support of a dedicated team for the underwater operations. The installation was completed in just 50 days.
Vom 30. September – 02. Oktober findet die International No Dig in Florenz, Italien statt und VMT ist mit dabei.

Die International No Dig ist eine weltweit einzigartige Veranstaltung zur Förderung der grabenlosen Technologie und führender Innovationen im unterirdischen Infrastrukturmarkt. Die grabenlose Technologie umfasst die Installation, den Austausch oder die Erneuerung von unterirdischen Versorgungsleitungen mit minimalem Aushub und Oberflächenstörungen.
Besuchen Sie uns auf unserem Stand Nummer 5, auf dem wir uns zusammen mit unserem Mutterkonzern Herrenknecht präsentieren.
Verpassen Sie auch nicht Jürgen Göckel's Vortrag zum Thema "TUnIS Navigation E-Power Pipe – Precise guidance of small diameter tunnelling machines". Die technische Session findet am Montag, 30 September von 14-16:00 Uhr im Raum A statt.