Think Local. Act global. Was wir in Bruchsal entwickeln, wird auf der ganzen Welt erfolgreich eingesetzt. Wir verwirklichen Projekte, bei denen Weltenbummler und Bürohelden an einem Strang ziehen. Neugierig? Dann "Willkommen bei uns"!
Zur Verstärkung unseres Entwicklungsteams am Standort Bruchsal (bei Karlsruhe) suchen wir zum nächstmöglichen Zeitpunkt einen Softwareentwickler(m/w/d) .NET.

Ihre Aufgaben:
Sie arbeiten entlang des gesamten Software-Lifecycles zur Neuentwicklung und Pflege modularer, datenbankbasierter Navigationssysteme sowie Arbeitsplatzanwendungen für den Tunnelbau.
In diesem Rahmen führen Sie Anforderungsanalysen, Programmierungen, Systemintegrationen sowie Tests durch.
Die Wartung und Pflege unserer bestehenden Software-Plattform rundet Ihr Aufgabengebiet ab.
Ihr Profil:
Abgeschlossenes IT-Studium oder eine vergleichbare Ausbildung
Fundierte Programmierkenntnisse in C# idealerweise mit WPF als GUI-Technologie
Erfahrung in der Softwareentwicklung im .NET-Umfeld sowie mit relationalen Datenbanken, idealerweise Firebird und MS SQL
Erfahrung mit Scrum sowie mit agilen Entwicklungsmethoden und -prinzipien
Sie entfalten Ihre Technologie- sowie Methodenkompetenz und tragen zur Einhaltung unseres hohen Qualitätsanspruchs bei
Sie stellen sich neuen Herausforderungen und bleiben technologisch immer am Ball
Wir bieten:
Kompetente, individuelle Betreuung während der Einarbeitungsphase (Patenmodell) für einen einfachen Start in den neuen Job.
Kantinenbetrieb mit eigener Köchin, täglich frische Obst-/Gemüsekörbe und Getränkeflatrate für das leibliche Wohl.
Modernes Arbeitsumfeld mit Möglichkeiten zu Homeoffice.
Fortbildungsmöglichkeiten zur Spezialisierung und persönlichen Weiterentwicklung.
Mobilitätsunterstützung für einen stressfreien Arbeitsweg durch z. B. E-Bike-Leasing.
Betriebliche Altersvorsorge, damit Sie für die Zukunft planen können.
Die Gesundheit unserer Mitarbeiter liegt uns am Herzen. Deshalb gibt es bei uns wöchentliche Aktivitäten wie z.B. Rückenkurs, Lauf-/Fahrradtreff und jährlichen Aktionen wie z.B. Gesundheitstag zu wechselnden Themen.
Stärkung des kollegialen Zusammenhalts durch Firmenevents wie z. B. Skifreizeit, Sommerfest, Beachvolleyballturnier, Weihnachtsfeier.
GUIDED BY VMT.
VMT ist mit seinen Vermessungssystemen und –services führender Anbieter im Tunnelbau und in der Industrievermessung. An die 2.400 erfolgreiche Tunnelvortriebe weltweit sowie mehr als zwei Jahrzehnte Erfahrung im Bereich Industrievermessung dokumentieren die Leistungsfähigkeit und Innovationsstärke des VMT-Produktportfolios in den Bereichen Navigationstechnologie, Produktions- und Logistikmanagement, Deformations- und Prozessmonitoring, Datenmanagement und in der Industrievermessung.
In der Branche gilt VMT als kompetenter, verlässlicher Partner ‒ bekannt für seinen hohen Qualitätsstandard und das große Engagement seiner Mitarbeiter.
Die VMT Gruppe beschäftigt derzeit ca. 220 Mitarbeiter/-innen ‒ am Firmensitz in Bruchsal und in den Niederlassungen oder Vertretungen in Melbourne, Seattle, Shanghai, Singapur, Neu-Delhi, Madrid und St. Petersburg.
Haben wir Ihr Interesse geweckt?
Dann senden Sie bitte Ihre aussagekräftige Bewerbung, ausschließlich als PDF, mit Ihrem frühestmöglichen Eintrittstermin und Ihrer Gehaltsvorstellung, per E-Mail an: Bewerbung[at]vmt-gmbh.de.
Wir freuen uns darauf, Sie kennenzulernen!
VMT GmbH | Tanja Hoffmann
Stichwort: Softwareentwickler .NET
Stegwiesenstraße 24 | 76646 Bruchsal
Tel.: 07251 9699-140
Bewerbung[at]vmt-gmbh.de | www.vmt-gmbh.de
Liege airport required a new sewer system, so a scheme was developed to install some 6.3 km of new sewers beneath the airport. The main contractor for the work was Denys.

---
---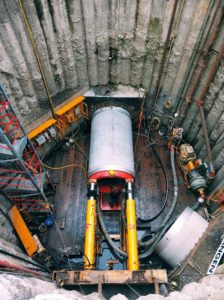 The programme of work included the installation of some 933 m of ID1800mm diameter pipe using microtunnelling techniques. Denys engaged experienced microtunnelling contractor K-Boringen to complete this part of the project.
The microtunnelling works were to be completed using the contractor's Herrenknecht manufactured microtunnelling machine which utilised a TUnIS Navigation MTGyro guidance system from VMT. What made this operation unusual is that, where normally an HWL (Hydrostatic Water Level) system would be used in conjunction with the Gyro system to establish elevation of the boring machine, on this project it was decided that this would not be utilised. This is believed to be the first time such a a pipe jacking project has been undertaken by the contractor without the HWL. This was decided to simplify operations during excavation.
In order to maintain the required tolerances and in particular not to create a counter slope, control measurements were planned at intervals of approximately 60 m. This corresponds to a typical control measurement interval when using gyro navigation systems.
The control measurements were carried out by the specialists from VMT, who were on site during the entire course of the project in order to optimally support the new generation system TUnIS Navigation MT. Since the intention was to extend the control measurement intervals above the usual 60 m, a tunnel laser was installed parallel to the gyro system, which was used to spot-check the determined position.
The navigation with gyro compass and without hydro level has proven itself in this project, with the specified tolerances being adhered to at all times.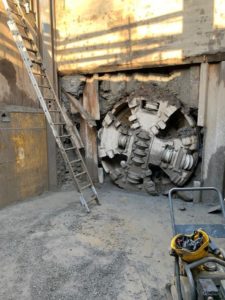 Given the location of the new sewer under the high speed double-track railway Liege – Namur, the project also utilised a VMT MODUS (Modular System for automated Deformation Monitoring) system to monitor the deformation of the rails, an application which is rather unusual for microtunnelling projects where bore diameters are relatively small and ground deformation is usually extremely limited.

Commenting on the Liège project for K-Boringen, chief operating officer Wim Feyen said:
"Working without the use of the hydrostatic water level simplified the handling of the drive considerably. Due to production requirements the intervals of our check surveys to monitor the accuracy of the gyro guidance system were a little longer than we would have liked. However, despite this, the alternative calculation method for the vertical position has reached the accuracies that VMT had stated in advance and the bore has been completed within the required tolerances.
For tunnels with very small gradients, it wouldn't be optimal to rely solely on this new calculation method – however, this project has shown us that, with the right equipment and the right back-up, we can achieve the necessary accuracy of the drive without a hydrostatic water level."
At a Glance Fact Sheet:
Project Name or Designation/Timescale
Seraing, Sowaer – two months
Location
Liege, Belgium
Project requirement

New sewer system
Method
Microtunnelling/Pipe Jacking
Diameter/Length/Bend Radius
Diameter 1,800 mm, length 933 m, straight
VMT System utilised
TUnIS Navigation MTGyro

Plus MODUS as additional monitoring system (a rare case for a microtunnelling project)

Challenges
The TUnIS Navigation MTGyro navigation was used without an HWL (Hydrostatic Water Level) system and so required additional control and extremely high accuracy of check surveys
Diestersteenweg in Sint-Truiden, Belgium is a street that was undergoing renovation which included new sewer and rainwater collection systems. The project also sees the integration of new cycleways, greatly improving safety for cyclists and pedestrians in the area.

---
---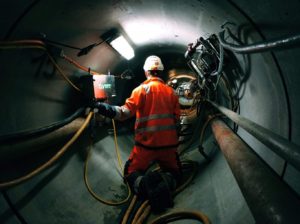 K-Boringen was awarded the contract for the new sewer system, which would be installed using microtunnelling equipment. The sewer required the installation of an ID1600 mm pipe string over a length of 548 m. Included in the drive were two curves forming an 'S' bend with one curve having a minimum 300 m radius and the second having a minimum radius of 600 m.
Being a long-term user of VMT Navigation Systems, K-Boringen opted to utilise VMT's new generation system TUnIS Navigation MT in combination with the similarly newly developed hardware platform MT.connect, for highest accuracy of the drives (particularly through the curved sections).
For optimal transparency and overview of the tunnelling process, Jackcontrol provided their Microtunnelling Support System (MSS) together with their equipment for the monitoring of joint movements and pressures inside the pipe string.
Based on the long-term partnership between Jackcontrol and VMT, Jackcontrol has recently decided to participate in the development of MT.connect. As a result both companies are now using the same hardware platform for their systems, significantly minimising the hardware efforts for the jobsite and making handling much easier.
Tunnelling began in early October 2020 with breakthrough being achieved at the reception shaft on 9 December, just some 10 weeks later.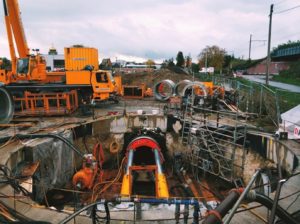 The project also marked the first use in Belgium of the TUnIS Navigation MTLaserTotalstation and MT.connect navigational hardware alongside the Jackcontrol tunnelling system. A few minor teething problems in the new navigation software were quickly overcome, with VMT providing site support and access to the Product Management Team at the head office in Bruchsal.

Commenting on the project for K-Boringen, chief operating officer Wim Feyen said:
"Running the Jackcontrol and VMT systems over the same hardware platform, MT.connect, worked very well, making handling faster and easier. We're definitely keen to work with the VMT and Jackcontrol combination again and plan to use MT.connect for our next long straights and curved drives."
At a Glance Fact Sheet:
Project Name or Designation/Timescale
Sint-Truiden Diestersteenweg
Location
Sint-Truiden, Belgium
Project requirement

Sewer Installation
Method
Microtunnelling/Pipe Jacking
Diameter/Length/Bend Radius
Diameter 1,600 mm, length 548 m, 300 m minimum radius including S-curve
VMT System utilised
TUnIS Navigation MTLaserTotalstation

Jackcontrol

Challenges
With a challenging S-Curve (R = 300 m, 600 m) – comprehensive preparation for system components. First use of the Jackcontrol system in combination with VMT Hardware.